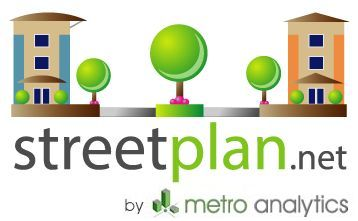 Welcome to StreetPlan! Click
here
for our
free Complete Street design tool, or learn
more about it below.
60-Second Video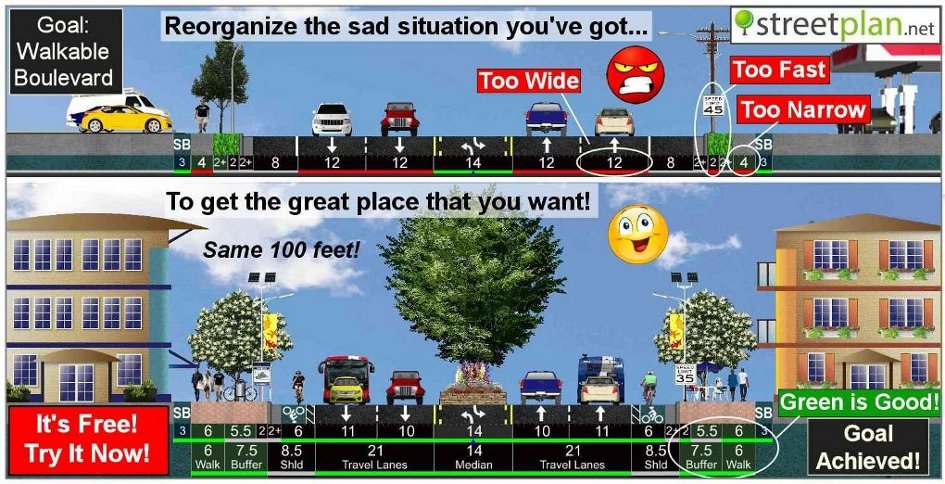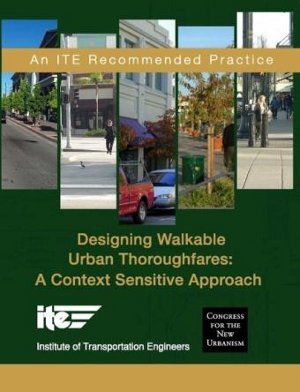 Introducing StreetPlan, a free drag & drop tool for creating Complete Street ideas in just minutes. StreetPlan analyzes your design as you make it, giving you instant color-coded Best Practice guidance from the Institute of Transportation Engineers and the Congress for New Urbanism.
Want to jump right in? Try it here now for Free!
Want a few more details? See our Key Features doc.
Print a one-page flier for your office here.
How Can StreetPlan Help You?

Are You an Urban Planner?
Gain quick consensus on what stakeholders want, so you can focus on how to get it!
Create low-cost street upgrades, expanding to a full vision in later phases.
Depict typical section standards for new streets
Save time/money with do-it-yourself high-res graphics for your plans and meetings
Hire architects & engineers after stakeholders agree on a vision.
Get public feedback on your ideas
Create excitement for Complete Streets and Sustainable Development
Encourage consultants to use StreetPlan for your plans and corridor studies
Architect or Consultant?
Gain competitive advantage with StreetPlan's "free and fast" high-quality renderings
Use StreetPlan to help stakeholders unify around a small set of ideas, then create higher-quality, 3D renderings your normal way once you've narrowed the choices.
Concerned Citizen?
Create sketches of what you'd like to see, then rally your neighbors to city hall!
Start using StreetPlan now! No download required! Note: StreetPlan is brand new. It has bugs that we know about, and more to be discovered. If you find bugs or opportunities for improvement, please let us know!







Core Features of
StreetPlan
StreetPlan – Complete Streets
StreetPlan – Aerial View
StreetPlan – Form & Function
StreetPlan – Travel Demand
Sustainable Freeways?
6-D's of Traffic Management
7-D's of VMT Reduction
8-F's of Transit Ridership
Urban Visualization Tools
Are you tired of your job?
Not paid what you're worth?